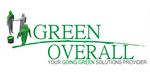 Green Overall - Eco Friendly Water and Energy Solution Franchise
Establish your business early in this growing market, ready for when demand hits on the country's water and energy resources, and provide a comfortable living for you and your family.
Finance requirements

Franchise Fee:

R150 000

Liquid Capital:

R25 0000

Minimum Investment:

R50,000

Areas Available

South Africa
Profile
Green Overall's passion is to contribute to the environment though implementation of alternative water and energy solutions. Water and energy solutions are in critical demand worldwide, and specifically in South Africa.
Invest in an...
Ideal franchise for technically-minded person
Water and energy business - addressing an essential need in South Africa
Unlimited potential and client base across South Africa
Wide range of solutions offered to customers
Applicable to domestic, commercial and industrial sectors
Full technical- and product support
Turn-key solutions and projects
Company has been operating for 14 years with proven success
Own your own company
Recent key achievements
We have developed several unique solutions for water system
We have installed large-scale water systems for large companies, including grey water and process water recycling
Our company has expanded its solutions to also include electrical and plumbing services
We have inhouse capability to design water filtration systems
We have installed many solar PV systems for domestic and commercial buildings
Our purpose-made solutions include:
Rainwater harvesting
Automated switchover systems between municipal and other water sources
Leak detection and consumption management
Swimming pool backwash recycling systems
Borehole installations
Water analysis
Water filtration systems, including all technologies such as reverse osmosis
Black and grey water systems
Industrial process water recovery
Small-to-large scale water storage
Bio-remediation of open water, sludge and manure ponds
PV solar and solar geyser solutions
We will provide:
Assistance with initial marketing in your area (included in the fee)
Product starter kit to assist with first installations (included in the fee)
Full product and solutions training, as well as other aspects of the business to ensure the franchiser delivers the same quality of service as we are renowned for
Technical advise
Assistance with installations
All components required for installation may be purchased at discounted price from the franchisor
Free website
License to trade as Green Overall
Software packages to assist with quotations and system design
Green Overall Midrand has been part of Green Overall for 3 years and we haven't looked back! It felt as though we were joining a close knit family and we were welcomed with open arms . From the detailed hands-on training in the beginning, to the occasional hand-holding during initial installations, to the continued ongoing support, which has been exceptional, the journey has been an excellent and rewarding experience. It has always be comforting to know that I can contact any one of the amazing team members for expert opinion and assistance at any time. All this, coupled with the passion and vision of the Green Overall team, has helped to make the Midrand office a great success and a trust brand in a short space of time.

- Stefan Kὅstlin, owner, Green Overall Midrand
A typical day in the life of a franchisee would include:
Marketing the company to potential clients. This will include setting up appointments and visiting potential clients
Using easy software packages to design and quote on the solutions required by the client.
Installation of water and solar systems
Maintenance on systems
Purchasing of components for installation and re-sale
Typical company administration and finance control
In summary, managing your own business!!